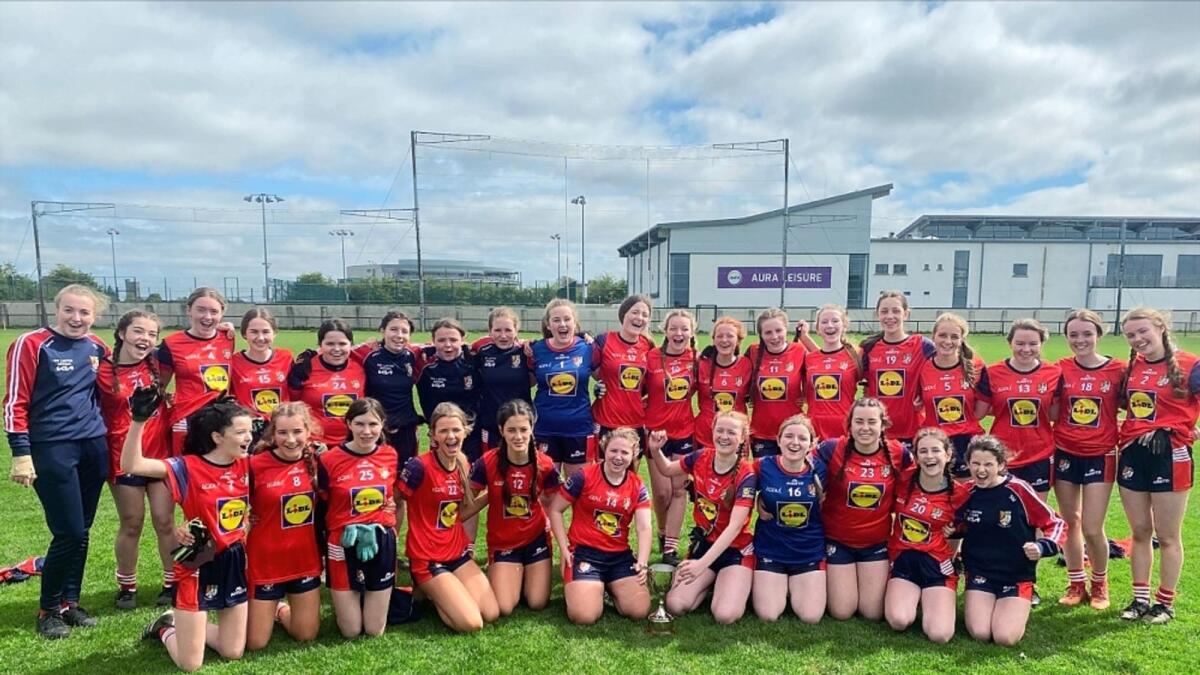 Oaklands ladies victorious in Leinster!
Oaklands Community College 5:05 Colaiste na hInse 2:10
Oaklands Ladies' Junior Football Team ended an amazing season with the ultimate prize, a Leinster School's Cup Title. The final took place last week in Trim Gaelic Grounds, their opponents were a strong team from Bettystown in county Meath, Colaiste na hInse. Both teams were evenly matched, making for a very entertaining game of football.
It was Oaklands who struck first with a well taken point from play by joint captain Erin Donoghue, seconds later Caron Dunne narrowly missed out on a goal opportunity. Colaiste na hInse got their chance to attack and it resulted in a goal. Again, Donoghue was on form with a long ball in from half forward Anna Grace, na hInse's goalkeeper fumbled the ball and Donoghue pounced to hit the net.
Oaklands defence was strong with joint captain Jane Spollen leading the way by making some superb blocks. Anna Creedon and Faye Dunne made huge ground in defence and while points were scored by the opposition no further goals found their way into the net in the first half. A well-read interception in defence on the part of Saoirse Hoey lead to another goal scored by Donoghue. This was quickly followed by an unstoppable shot that rattled the back of the net by Kellie Jordan.
Oaklands led at half time three goals and one point to Colaiste na hInses' one goal and four points, all to play for.
The second half had continued with same intensity as the first. A goal by Colaiste na hInse tightened the margin but it didn't take long for the Offaly team to respond. Donoghue turned her marker and found the back of the net and within seconds substitute Kate McEvoy scored another well set up goal.
This was a fast-paced game with the ball spending large amounts of time in both teams' possession. The level of football on show was of a high standard and very enjoyable to watch. The mid field duo of Tara Tyrell and Grainne Foy worked tirelessly up and down the field making key passes and covering back in defence. The work rate was so outstanding that Grainne Foy was rewarded as player of the match. Oaklands were now looking to push on but Colaiste na hInse had by no means given up. Their purple patch came, and they chipped away with some well taken points narrowing the margin. Hollie McLoughlin was solid in goals and made a vital save to keep the opponents out.
The introduction of Chloe Molloy in defence and Beth Dunne in attack helped Oaklands get out of danger with some great displays of fielding the ball and solo carries up the pitch. The final moments of the game were nail biting as only a single point separated the teams.
In the end Oaklands kept their cool and held on to become Leinster Champions.
Oaklands Community College Junior Team; H. McLoughlin, A. Creedon, J. Spollen (JC), F. Dunne, S. Hoey, G. Foy, T. Tyrell, A. Grace, K. Jordan (1-0), C. Dunne, E. Donoghue (JC) (3-2), K. McEvoy (1-0), B. Dunne, C. Molloy, L. Ferrari, R. McGovern, K. Gleenon, A. Elis, E. Prendergast, B. Reilly, S. Kenna, T. Quinn, E. Fanning, S. Curtis, E. Owen, S. Murphy, E. Maher, E. Ryan, A. Heffernan, E. O'Reill