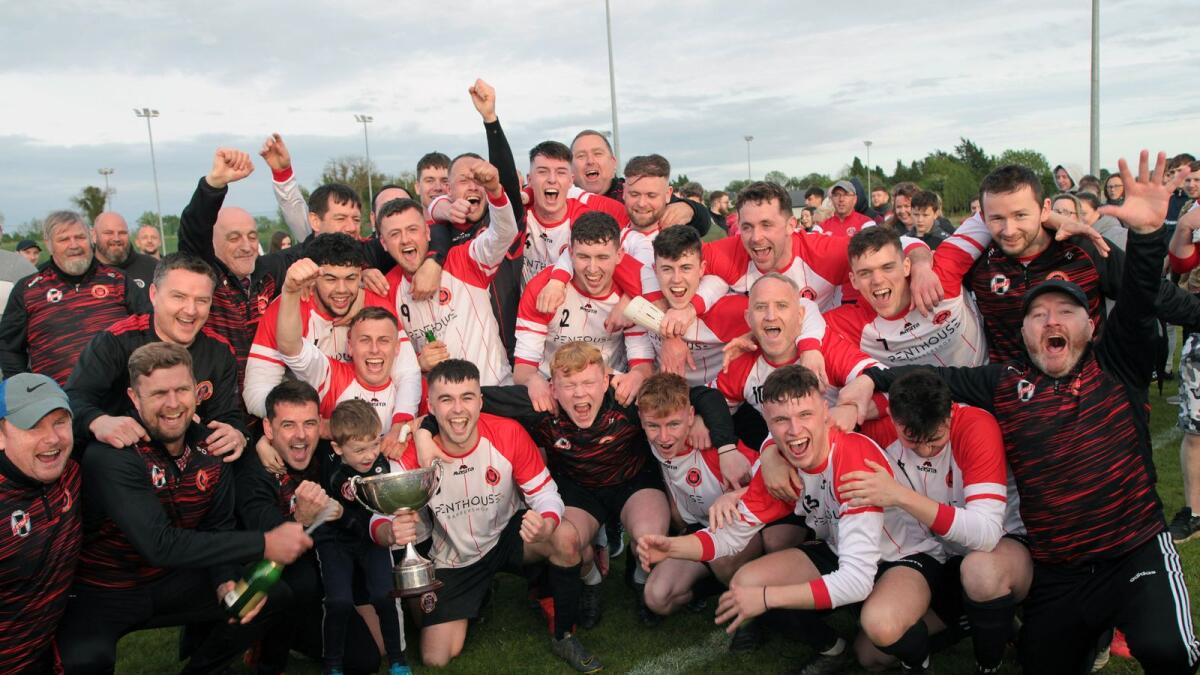 Clara Town end long wait for league crown
Clara Town 3 Monksland United 2 (AET)
John Dingle
Clara Town have won the CCFL Senior Division title for the first time in 15 years after defeating Monksland United in this exciting play-off in Gainstown last Saturday evening.
Clara had already overcome Monksland in the Paddy Cotter Cup final and the Offaly team came out on top once again in this decider.
The play-off lived up to its billing with the outcome only becoming clear after extra-time. A scoreless opening half was followed by Clara racing into a 2-0 lead before the hour mark with goals from Stephen Deehan and Robert Bracken.
A goal from Brian Francis looked to be mere consolation for Monksland as the game headed into stoppage time but a late, late goal from United forced extra-time. And in the first period of extra-time, Clara's Lorcan Cornally struck decisively from a disputed free kick to bring the league title back to Stanley O'Hara Park.
Monksland were dealt a blow even before a ball was kicked as influential midfielder Stephen Francis picked up an injury in the warm-up. Reece Moran was drafted in from the substitutes' bench as a result.
The Cotter Cup winners were first on the attack as Luke Dignam fired a free kick over the bar and Neil Robbins had a header saved. Monksland first created danger when Shane Dolan's cross from the left was saved by Gavin Fleming. Josh Fleming then set up Dignam but the latter's finish was off target.
On 18 minutes, Clara had the best chance of scoring in the opening half. A cross from Robbins on the right caused some confusion in the Monksland ranks but Moran was on hand to clear off the line. It was little surprise when the opening half ended scoreless with both defences on top and neither keeper seriously threatened.
The second half was much more open as four goals were scored. Clara were quickly on the offensive and had a great chance to open the scoring inside the first minute. Robert Bracken looked set to score but Cathal Hannon pulled off a great save.
Clara were not to be denied for long, though, as they struck with just two minutes played. Bracken got to the end line and sent in a low cross which was finished to the net by Stephen Deehan.
It was just what the game needed and it got better for Town as they doubled their lead on 56 minutes. Bracken was again involved and his fine finish to the roof of the net from the edge of the penalty box had Clara in control.
As Monksland continue to struggle, Lorcan Cornally then fired wide. Monksland's only response came from a corner on the hour mark and as the game headed beyond the midway point of the half, their cause looked serious.
United were handed a lifeline after 71 minutes. Dolan sent in a cross from the right which Francis bundled home from close range. It sprung the Athlone team into life as Clara tried to defend their lead. It was a plan that came just short of being implemented to perfection.
David O'Brien drilled a free kick wide and it looked like United's hopes of revenge would fall short when a good chance in the penultimate minute was wasted. O'Brien's free came back off the defensive wall and the ball was worked out to Dolan on the right, but the finish was poor.
The game now headed into stoppage time and there was late drama. Another O'Brien free saw Matt Scally have a header saved and Clara looked to have survived the pressure as the game headed into the fifth additional minute.
One final attack paid off as Dolan's cross eventually led to Ross Kinnarney finishing the ball to the net.
Nearly seven additional minutes were eventually played with Clara fuming at the time added on.
Extra-time was now needed and during the first period it was Monksland's turn to fume at a decision that went against them. Alan Gavin and Cornally had chances for Clara but a contentious decision settled the game after nine minutes. Clara were awarded a free kick and Cornally took full advantage as he fired the ball past the keeper's right to the net.
The second period saw Monksland try to grab an equaliser and force a penalty shootout. They came agonisingly close to achieving their aim. O'Brien again tried his luck from a free kick as Clara were hanging on. Goalkeeper Hannon pushed up to join the attack late on but the last chance saw Donal Beirne fire over as an incident-packed encounter soon ended with Clara celebrating.
Man of the match: Neil Robbins (Clara). The number eleven was always a danger whenever in possession and Monksland were glad that they did not have to face him during extra-time having been substituted earlier.
Clara Town: Gavin Fleming, Lee Tierney, Pa Smith, Alex Hall, Sean Tierney, Robert McDonagh, Robert Bracken, Luke Dignam, Josh Fleming, Stephen Deehan, Neil Robbins. Subs: Lorcan Cornally for J Fleming (57 mins); Adam Kelly for Deehan (63); Gio Russo for Bracken (69); Alan Gavin for Tierney (77); Carmine Russo for Robbins (87).
Monksland United: Cathal Hannon, Kevin Dunne, Keith O'Reilly, Ross Kinnarney, Brian Francis, Kevin Gaylard, Aidan Reilly, Dylan Jinks, Shane Dolan, Ryan O'Connor, Reece Moran. Subs: Matt Scally for Jinks (50 mins); Alan Fox for O'Reilly (57); David O'Brien for O'Connor (68); Johnny Kiernan for Dunne (90); Shane O'Neill for Moran (90); Donal Beirne for Kiernan (98).
Referee: Ray Conlon (Athlone).