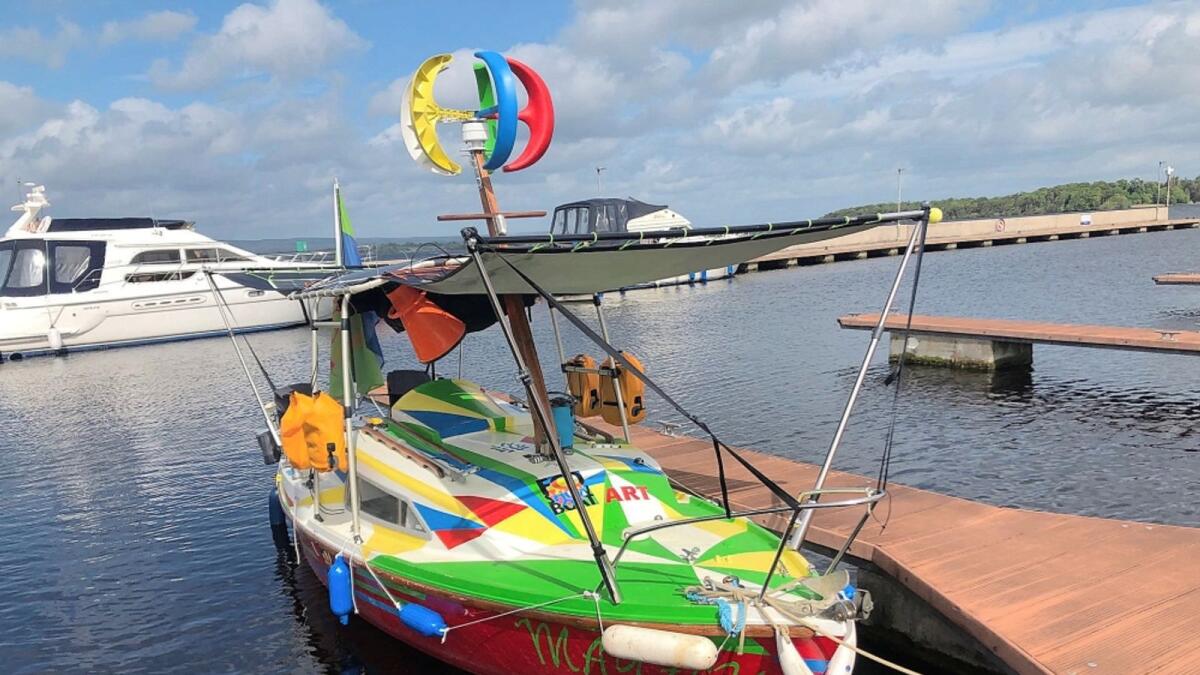 Eco Showboat to dock in Banagher for special climate focused event
The Mayfly Eco Showboat will dock in Banagher on Sunday, July 10 for an afternoon of art, science, workshops and talks.
The Eco Showboat will continue its zero carbon boat journey from Banagher right up along the Shannon and Erne system over July and August using only solar power.
The Eco Showboat expedition is a four month arts voyage from Limerick to Enniskillen aboard the Mayfly, flagship of the Eco Showboat project, and the first solar electric boat to make this journey. Anne Cleary and Denis Connolly from the School of Looking established the project. The Eco Showboat Mayfly will moor at Banagher Marina for an afternoon of fascinating waterside events in the extraordinary Pangolin Pavilion, pop up projection space made from 35 striped umbrellas.
Artist Alan Phelan will make a fabric intervention in the Marina in his signature red, green and blue colours. These relate to the Joly screen colour photography process which was invented by Offaly man John Joly in the 1890s, one of the first colour images. Alan has invited Prof Patrick Wyse Jackson from the TCD Department of Geology where Joly also worked to discuss 'How Rocks Can Save the Planet.'
There will be an exciting discussion on geological discoveries and histories that relate to climate change and art. IT will be examined how Joly's scientific papers contributed to contemporary knowledge in the field from the minerals used in solar cells, lithium found in granite, carbon sinks, geological time.
Later in the afternoon the School of Looking will explore the wealth of biodiversity surrounding us with an experience in Slow Looking, and projects the first scenes from Cleary and Connolly's River Movie. The Eco Showboat project has received the Arts Council Open Call Award, the SFI Discover Award, the Limerick Arts Strategic Award and is supported by Creative Ireland, Waterways Ireland, Dublin City Council, the Local Authority Waters Programme, Offaly County Council Arts Office and local authorities and universities right across the country.
Marine biologist Rachel O'Malley a marine biologist will bring an amazing tray of creatures from the Little Brosna river. These are indicators of water quality and will be the subject of the Slow Looking workshop.
There will be an opportunity for people to check out Mayfly, Ireland's first fully solar electric boat. Attendees will also learn about plans for the 48 M, a heritage barge based in Tullamore that they are planning to convert to sustainable energy over the next year.
The event is free but those interested in attending should register in advance on Eventbrite.