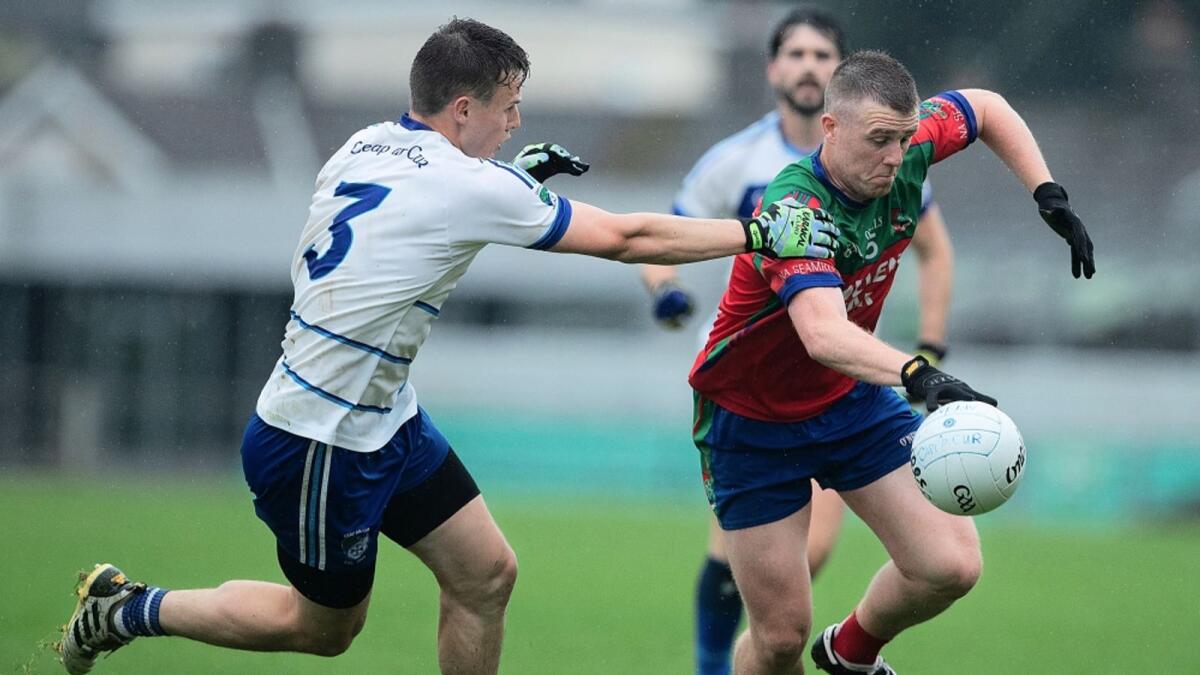 Tullamore survive tough battle as Shamrocks also show their worth
Kevin Egan
Against Shamrocks, Tullamore showed their flair against class. Against Ferbane last Sunday, the county football champions had to answer very different questions, and they did so impressively.
A final score of 1-9 to 1-7 might not scream 'quality', but there was an intensity to this fixture that was unlike anything seen in the county so far this year. The concession of an early goal, the loss of Ciarán Egan and Paul McConway to cards; there were hurdles that needed clearing here, and they did so.
Ferbane might not be too despondent either, as there are obvious reasons why they should improve as the year goes on, though the widespread talk about how these two clubs could well meet again is very dangerous.
A strong performance against Tullamore will mean nothing if Ferbane can't beat Shamrocks, and as the Rahan/Mucklagh club proved against Cappincur, they are a force to be reckoned with too. Ferbane will need to treat their next opponents just the same as they did their opponents in blue, and even then, they'll do well to scrape home.
In the other group, Rhode and Edenderry both looked far too good for their opponents, and they looked nailed on for the top two slots now. Clara simply didn't show up in any real way last Friday night so it's hard to assess Edenderry properly, but Ken Robinson's side can only pass the test that was put in front of them, and they did that.
Rhode also did what they needed to do and not a lot more, but like Ferbane, it's easy to see further improvement coming from them in the coming weeks, if only as they get more time with their new management.
Birr and Coolderry face crunch games
With both clubs unbeaten so far, the meeting of Belmont and Ballinamere tonight (Friday) in Banagher (7pm) could be informative in terms of which club might take a step closer to topping the group and securing an automatic semi-final spot. But if you like your hurling with real jeopardy attached, then the two games on Saturday evening are far more intriguing.
Coolderry's chances of getting back to the county final are hanging by a thread, and even if they beat Shinrone, they still need a lot more to go their way. However the first step is to pick up the win tomorrow (St Brendan's Park, 6pm), and their historical record against Shinrone is impressive, to say the least of it. This is not a fixture that has been kind to Shinrone, and on the form that Coolderry showed against Ballinamere, even on pure hurling terms, there might not be a lot in this.
Bright and dry conditions would probably favour a faster Shinrone side, but if they can't get the scoreboard moving early and turn this into a shootout, then they'll find it very difficult to squeeze out a result in a tight finish.
Just down the road in Kinnitty (6pm), Birr and Clodiagh Gaels also put their season on the line. At the start of the year we'd have described this one as a tap in for Birr, and certainly the mid-Offaly club didn't pull up any trees in attack against St Rynagh's last time out. They are defending well however, and crucially, they conceded eight pointed frees against Kinnitty, five against Kilcormac-Killoughey and four against Rynagh's.
If they restrict Eoghan Cahill to four or five again this time, will the rest of the Birr attack score 1-12 or so? Possibly, but it's far from certain. We'll suggest a Birr win as by far the most likely result, but not a foregone conclusion.
Finally, St Rynagh's face Kinnitty in Coolderry on Sunday (3pm), where realistically, both sides will have at least one eye on different tests down the road. If form holds in the Birr vs Clodiagh game, then Kinnitty's clash with Birr will be a straight knockout tie. Rynagh's are effectively through already, but they would like to get a bit more chemistry going up front. Winning on Sunday won't be the be-all and end-all for either team, though we'd still fancy the champions to prevail by five or six.