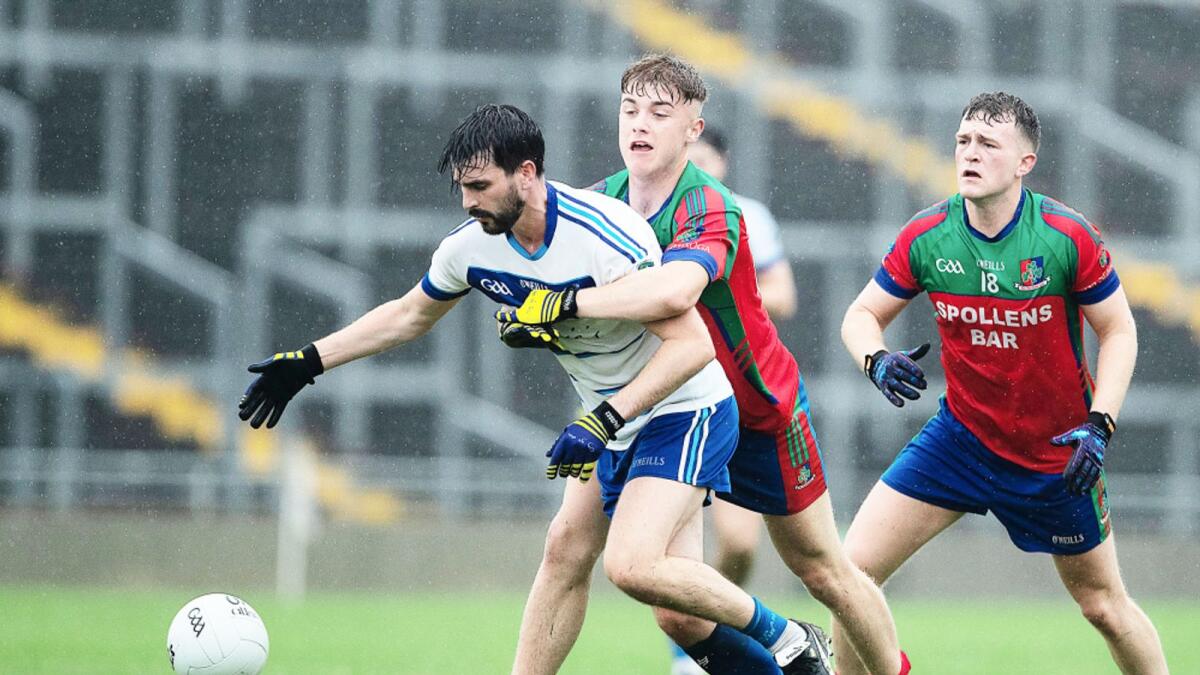 Ferbane vs Shamrocks looks the pick of Sunday's showdowns
Kevin Egan Column
Of the four Offaly senior 'A' championship games taking place this Sunday, each one has a different appeal, but to most neutrals, the contest in Tubber between Ferbane and Shamrocks looks like the one that will have the most edge to it.
While Tullamore are expected to do both clubs a favour by accounting for Cappincur, the fact that the Blues have top spot in the group and an automatic semi-final place nailed down already means that Cappincur have a glorious opportunity to pull off an upset.
Tullamore manager Niall Stack will drum home the importance of momentum, but with a huge number of U-20 players set to play a county semi-final next Tuesday, not to mention players carrying knocks from a heavy slate of hurling and football games, the fact that the result is not all-important is bound to creep into their thoughts.
If Cappincur were to take something from that game, the loser of the Ferbane v Shamrocks tie would almost certainly be in huge trouble, and neither side will feel that they are exactly where they need to be right now. Shamrocks, with Nigel Dunne and Jack Bryant in good scoring form, are attacking well but conceding more than they'd like. Ferbane, on the other hand, have the second-worst scoring record in the championship, and will need much improved performances up front to outgun their opponents.
Only Clara have scored less than Ferbane, and because of their poor scoring difference, the Magpies still need to get something from their clash with Rhode if they are to make sure of staying off the bottom of the table in group two. On current form, it's hard to see that happen, even though Rhode have made a habit of leaving teams in games so far this year. Two scores from play from Clara last time out is a dismal return, however, and this might be the game where Rhode click into form and win with a bit to spare.
If there is to be an upset in the group, Durrow's clash with Edenderry looks like a much more intriguing fixture, with a bit of potential there. Durrow showed a lot more spirit against Rhode in their last outing and because they kept the margin of defeat down, they've left themselves in a position where a win here will put them through to the next round.
Like Ferbane and Tullamore, it's been a busy schedule for Durrow – and an extra 20 minutes for the Ballinamere U-20 hurlers during the week wasn't what they would have wanted, particularly since the game still ended in a deflating 0-28 to 0-26 defeat to Birr.
Still, Edenderry have depended on strong performances at midfield so far, particularly from Jordan Hayes, and a pairing of Brian Geraghty and Ross Ravenhill gives Durrow every chance of competing well in this sector. An Edenderry win is still the most likely outcome, but it's not nailed on, by any means.
Offaly Senior FC fixtures (all Sunday, August 14, 4pm)
Group 1 - Geashill: Cappincur v Tullamore, Fergal Smyth; Tubber: Shamrocks v Ferbane, Kevin Williamson. Group 2 - O'Connor Park: Clara v Rhode, Eamon O'Connor; Croghan: Edenderry v Durrow, Chris Dwyer.
Shinrone hurlers turn the corner
We've often stated in this column that while history sometimes means standing on the shoulders of giants, for other clubs, it's more like getting crushed under the weight of generations of failure. We're not going to say that Shinrone have thrown away the shackles of all that underachievement just because they beat Coolderry in a round robin game, but still that result felt hugely significant.
In part, this was because of who they beat – Coolderry, the club in Offaly that has historically been the polar opposite of Shinrone, always extracting the maximum value out of the talent at their disposal. It was also because of the manner of the victory, where they coughed up an early lead, went four points behind and then scored the last five in a row to snatch the win.
It goes without saying that success for Shinrone means breaking the club's appalling record in knockout games, and that test is still to come. However unless something very strange happens in their final round clash with Belmont, they'll go into that knockout game with a very different mindset – and after all, the quality of their hurling has never been an issue.
The historical aspect doesn't really apply when it comes to the other game in the group between Belmont and Ballinamere, but Belmont will also feel particularly confident about where they are right now after retrieving a big deficit to take the win. At best, this puts them in line for an automatic semi-final place, which would be a huge boost for a club with so many dual players. At worst, it means they will avoid St Rynagh's or Kilcormac-Killoughey in a quarter-final, and will instead face either Birr or Kinnitty, which look like much more winnable games on paper.
Even though they currently sit behind Kinnitty in the table, Birr will be fancied in their upcoming showdown after they showed a fair bit of class in their win over Clodiagh Gaels.
Kinnitty will take plenty of encouragement from their draw with St Rynagh's too, but they won't be able to depend on filling their boots with goals on a consistent basis. Still, it has already been a hugely positive year for the Slieve Bloom men, and they'd have been delighted with this position if it was offered to them at the start of the year.