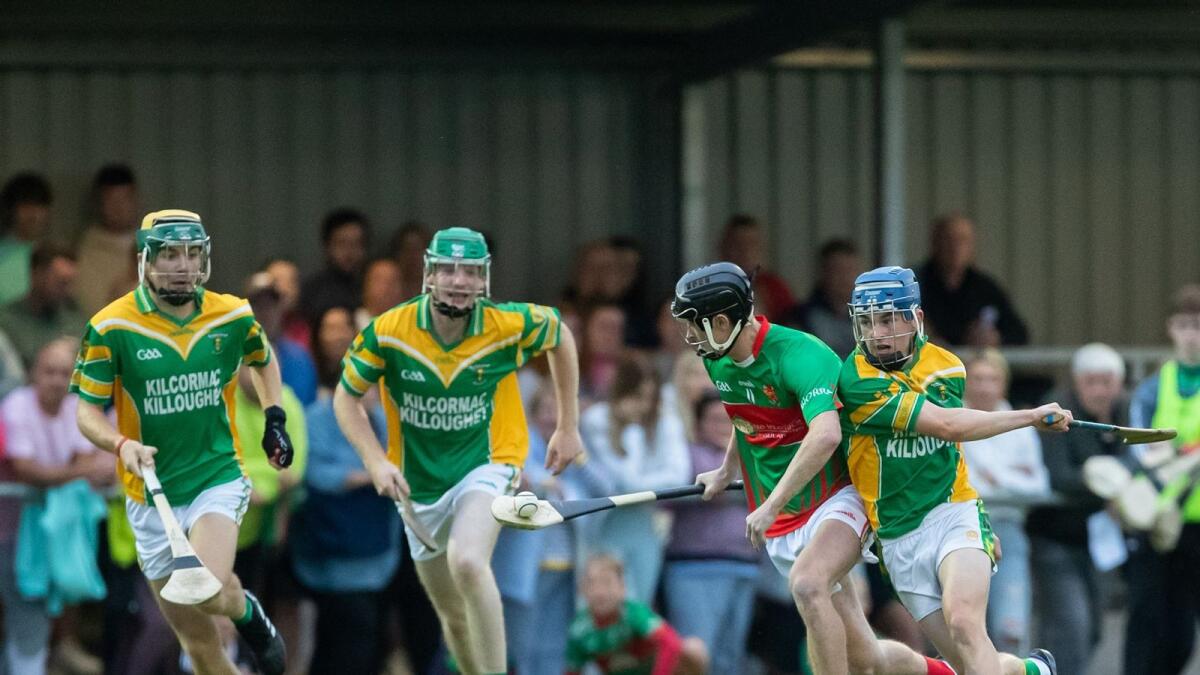 Last four standing in hurling all have reason to believe
By Kevin Egan
For Kilcormac-Killoughey and Birr, this Sunday's senior hurling semi-final clash is an opportunity to get back to the county final. For the hurlers of Shinrone and Belmont, there is a real sense that their game this evening (Saturday) in Birr represents perhaps the greatest chance either club will ever have to earn a shot at the Seán Robbins Cup, and arguably to win it.
While we all waited for four-in-a-row chasing St Rynagh's to click into gear at some stage, the clock ran out on the 2021 winners, and so they've stepped out of the race. Nothing can ever be taken for granted when it comes to transitioning underage talent through to the adult game, but the conditions are certainly there for K-K to get a lot better over the next couple of seasons, and by the time we get to the middle of the decade, they could be poised to go on a lengthy run of success, on a par with St Rynagh's from 1965 onwards, or the Birr sides from 1997 through to 2008.
For this year, however, a gap has opened up when the championship is there for the taking for any of the four clubs still standing. Given results so far, K-K will be perceived as the clear favourites to emerge as the victors, but there are clear reasons for each of the three pretenders to feel confident.
In the case of Shinrone, they looked a world away from county champions when they were demolished by Belmont in the final round of group games, but over the course of the 60 minutes against St Rynagh's, they gradually pulled themselves back into form and showed great character in the closing stages.
It would be a stretch to say that this quarter-final was of the highest quality, in fact it was very easy to pick holes in it, but for Shinrone, quality has never been a problem, it's always been their nerve in knockout games that has failed them. Add in the motivation of setting right what happened last time out against Belmont, and they're in a good place.
For Belmont there are no concerns about form, and they have the basic ingredients in place – solid defence, a ruthless free taker, great energy and physicality. Add in the X-factor of a returning Oisín Kelly, and they look well-poised. However, how will their players react to losing last weekend's football semi-final with Ferbane in such heartbreaking fashion? That much is harder to tell.
Birr have the toughest assignment this weekend, but the big concern about the town club was their lack of scoring power, and they certainly took a huge step towards allaying those fears last time out against Ballinamere.
Over the past five years or so, their half-back line was their elite unit, but if anything, their power base has shifted back even further now, where Oisín Murphy leads a full-back line that has been utterly watertight. Winning their own ball up front will be a problem, but there's no shrewder quarterback than Brian Mullins.
Without doubt, the favourites' tag lies with K-K for good reasons. They have incredible pace close to the opposition goal, a deep bench, great scoring threat from distance and a very balanced backline with no obvious weak links to exploit.
If form holds, they'll find a way to win their next couple of games by two or three points, but if that happens, three clubs will have missed a glorious chance to sneak a county title at a time when it is as attainable as it has been, or will be, for some time.
Senior B and Intermediate finals
Both in Birr on Saturday) and in Tullamore on Sunday, there is plenty of good reason to get in early for the curtain raiser fixtures. Seir Kieran got out of jail in their Intermediate final against Shamrocks and now they'll be the ones who go into Birr feeling that their name is on the cup.
Shamrocks realistically shouldn't be hurling at this level, there is far too many serious hurlers in their ranks for this to be the most appropriate grade for the club, but the old demons that have haunted this parish when it comes to county finals haven't gone away entirely it seems. Mental strength will be key – if Cal Aherne's side can put the missed opportunity of the drawn final behind them, they have the wherewithal to win – but it isn't always that simple.
Finally, calling the local derby between Clara and Tullamore isn't easy, except to say that Clara have exceeded expectations this year, to the point that this is widely seen as a 50/50 encounter.
It's been a long time since Clara have been one of the top ten hurling clubs in Offaly, but by Sunday evening, our hunch is that might be the case.
OFFALY GAA FIXTURES
Saturday, September 17
Minor Football Championship Quarter-Finals: Durrow (11:00) Tullamore v Ballinamere/Durrow, Martin Carty; Ferbane (11:00) St Manchan's v Ferbane/Belmont, Martin Walsh; Cloghan (11:00) Cloghan v Rhode Óg, Barry Buckley.
Molloy Environmental Systems Intermediate HC Final Replay: Birr (3pm) Shamrocks v Seir Kieran, Richie Fitzsimons.
Molloy Environmental Systems Senior HC Semi-Final: Birr (5pm) Belmont v Shinrone, Referee: Brian Gavin.
Sunday, September 18
U13 B Hurling Competition Final: Kilcormac (10:00) Kinnitty Lusmagh v Ferbane/Belmont, Kieran Pat Kelly.
U13 Hurling Championship Final: Birr (10:00) DSK v Tullamore, Richie Fitzsimons.
Molloy Environmental Systems Junior B HC Semi-Final: Banagher (12:00) Crinkill v Kilcormac-Killoughey, Sean Michael Maher.
Molloy Environmental Systems Junior HC Quarter-Final: Clareen (12:30) Ballyskenagh Killavilla v Ballinamere, Martin Walsh
Molloy Environmental Systems Senior B HC Final: O'Connor Park (2pm) Clara v Tullamore, Declan Cooke.
Molloy Environmental Systems Senior HC Semi-Final: O'Connor Park (4pm) Kilcormac-Killoughey v Birr, Kieran Dooley.
Molloy Environmental Systems Junior B HC Semi-Final: Moystown (5pm) Lusmagh v St Rynagh's, Ciaran Groome.
Wednesday, September 21
U15 Football Competition C Final: Mountbolus (6:30) Birr v Ballinamere/Durrow, Gerard Keyes.
U15 Football Competition D Final: Tubber (6:30) Cloghan v St Broughan's, Barry Buckley.
U15 Football Championship Semi-Finals: Gracefield (7pm) Rhode Óg v Na Fianna, Fergal Smyth; Clara (7pm) Ferbane/Belmont v Tullamore, Marius Stones
U15 Football Championship B Semi-Finals: Croghan (7pm) St. Vincent's v Edenderry, Ciaran Groome; Doon (7pm) St Manchan's v Shamrocks, Robert Dunne.
NOTE: Extra-time & Winner on the Day regulations apply if necessary in all games apart from the Senior B HC final.