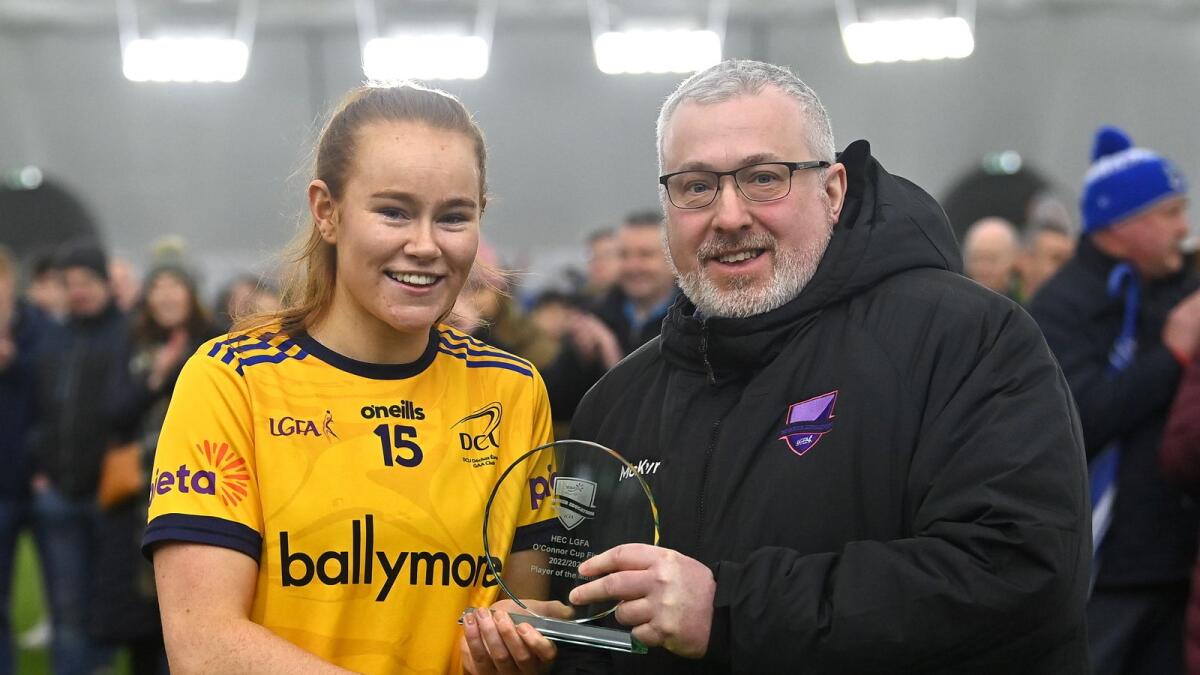 Offaly star inspires DCU to cup victory
LGFA: Yoplait O'Connor Cup
DCU Dóchas Éireann 3-14, University of Limerick 1-13
by Ivan Smyth
DCU coach Stephen Duff said the manner in which they dealt with a comeback from champions UL was decisive as they claimed the Yoplait Ladies HEC O'Connor Cup for the fifth time in history.
Both sides went into Saturday's final on the back of impressive semi-final victories but it was DCU who prevailed at the University of Galway Connacht GAA Air Dome.
"We started the game really well but UL came back. The girls showed massive control in the second half to really push on. Really great for the girls," said Duff.
The DCU coach hailed the display of Offaly's Kate Kenny who scored 1-10 in a superb display.
"Kate Kenny is probably one of the most talented footballers in the country and a lot of people don't know it because she's so good at camogie also.
"Kate is developing year on year and she's a great person and an even better player so the sky's the limit for her because she's not even 21 yet. She's got two years left in college so we are very lucky to have her and I hope that she goes from strength to strength over the next couple of years."
Another Offaly star, Roisin Ennis, was also on the victorious side.
UL joint manager DJ Collins said they gave it everything they had but just came up short on this occasion.
"We went down 1-3 to no score and we gave ourselves a mountain to climb. We got back a good bit. Got a point up. The effort it took to get that back proved too much. It took a lot out of us and we just came up short.
"I have to say fair play to DCU they are a great team as well. It was always going to be a tough battle. I've the height of respect for DCU. The whole time they are the ones who have been knocking on the door and in fairness they came out on top today.
"We could play it tomorrow and we could come out on top. We are very proud of the girls. We couldn't ask for anymore. They gave everything but in the end the better team won on the day," said Collins.
DCU led by 1-8 to 1-7 at the break with Kenny giving them a glorious start with a goal after just 25 seconds as they built up a 1-3 to 0-0 lead after just six minutes.
The champions, bidding for a third title in a row and their 14th in history, rallied and a goal from Aoife Hurley got them right back in contention.
DCU produced a ferocious second half display and goals from Tara Needham and Ciara Banville put them on the road to victory along with Kenny's accuracy as they claimed their first title since defeating UL in the 2018 decider.
Scorers – DCU: K Kenny 1-10 (0-6f), T Needham 1-1, C Banville 1-0, C Darby, L Fox, O Nevin 0-1 each.
UL S O'Shea 0-6 (5f), A Hurley 1-0, D Beirne 0-2, N Ward, C Needham, E Fitzpatrick, S Cunney, A O'Rourke 0-1 each
DCU: R Murray, C Dunne, L Lenehan, C Charters, R Ennis, R Sargeant, O Nevin, A R Kennedy, C Darby, C Lohan, M Reilly, C Finnegan, T Needham, K Kenny, L Fox. Subs: C Banville for Finnegan (24), E Morrissey for Fox (35), J Duffy for Darby (40), A Rattigan for Needham (52), A Farrell for Reilly (54).
UL: M Bolger, D Kiniry, L Spillane, S Ní Chonaill, A Molloy, N Ward, E O'Shea, C Needham, A Reidy, N O'Connor, D Beirne, E Fitzpatrick, A Hurley, S O'Shea, A O'Rourke. Subs: Z Fay for Spillane (17), A Sexton for Hurley (ht), S Cunney for O'Rourke (41), C Murray for Reidy (48), E Murphy for O'Connor (49).
Referee: Gus Chapman (Sligo).