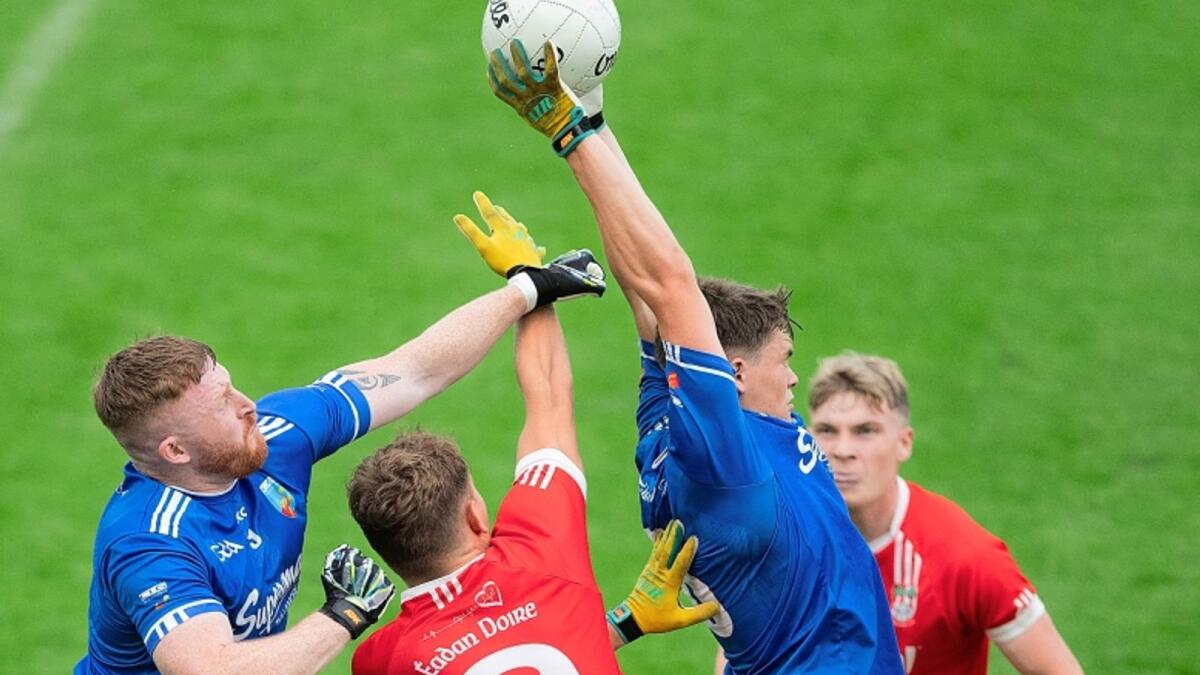 Knockout fare raises the level as football final pairing is decided
KEVIN EGAN COLUMN
Knockout is just different. While it's completely understandable that players need a championship that gives them some margin for error and some chance to recover from one bad outing, the fare on offer in Glenisk O'Connor Park last weekend was completely different to what we saw in the group stages, as Rhode, Ferbane, Tullamore and Edenderry produced two thrilling encounters, with the outcome in doubt until the very end,
When the business was done, it was Tullamore and Ferbane who secured their passage through to Sunday week's final, but both Edenderry and Rhode will be haunted by plenty of "what if" moments this week, even if neither club could really argue that there was any injustice to the end results.
Aside from the drama, there was also real quality to the games. The pace of play, the physical intensity and the real pressure of championship football was all there to be seen, and while there were plenty of errors an all sides, they were errors that were forced by good defensive pressure, or errors from players who were trying to make good things happen, be it forcing scores or forcing turnovers.
As with all modern football, there was lateral passing across the middle third and plenty of bodies funneling back too, but regardless of what rule changes might be trialed in third level football this autumn, it appears that the era of players (either goalkeepers from the kickout, or passers looking to connect with inside forwards) sending the ball into 50/50 contests as a default option looks like it will never return.
What will have pleased Declan Kelly is that there were still players who looked to put pace on the ball and to try and unlock the opposition when the chance was there. There were young players who looked right at home at this level of play, and there were proven senior stars who put responsibility on their shoulders and looked to carry their team's challenge, even when they weren't getting as much support from those around them as they would have liked – Cian Farrell and Anton Sullivan the obvious two examples here.
Ultimately, however, depth was a big part of why Ferbane and Tullamore prevailed, Ferbane in particular. Every time Ger Rafferty went to his bench, he was able to call on someone who was able to impact the game in one form or another. It wasn't as pronounced in Sunday's game, but Niall Stack still was able to bring in fresh legs, and to overcome injuries to Michael Brazil and Oisín Keenan-Martin, without ostensibly weakening the team.
In contrast, Edenderry made one substitute by the 58th minute, while it was also plainly obvious that they were carrying one or two players that weren't quite at the level needed to win games at the top level of senior club football.
After what were quite lifeless group games – with one or two notable exceptions – supporters definitely got their money's worth last weekend, and there were plenty of reasons put forward why it would be worth paying into the final to be there in person.
Hurling now switches to knockout mode
While the group stages of the hurling championship have been a bit more entertaining, in part because it's not really in the nature of hurling teams to play in shadow boxing mode, there will still be a significant upturn in quality and intensity across two double headers this weekend as well.
The action starts with the meeting of Kilcormac-Killoughey and Lusmagh in the senior B semi-final tomorrow afternoon in Birr, and Lusmagh must surely have been a little disappointed that K-K stepped off the gas in the final group game a touch, allowing Clodiagh Gaels to nick a win, and top spot. On paper, there are a lot of reasons why Lusmagh would test Clodiagh Gaels, particularly as they come into this on the back of their best performance of the campaign last time out against Birr.
Kilcormac-Killoughey have ludicrous levels of depth, and even allowing for their last result, it's hard to pick holes in this team. They might have preferred to play Lusmagh in Tullamore, but aside from that, all the signs suggest that they can win with four or five points to spare.
That will be followed by an intriguing senior quarter-final between St Rynagh's and Coolderry. If this match was marked down at the start of the championship, there would be very few that would favour Coolderry, but they have been a real surprise package this year, and produced a performance of real quality to overcome Belmont in what was effectively a knockout tie. They still lean on a few very senior figures, but Daniel Miller, Willie Malone and Gearóid McCormack have all stepped up really well, and they certainly will feel confident about their chances in knockout hurling.
St Rynagh's still have plenty of quality in the side, but a few of their positional choices still look strange, and they've yet to produce a performance this year that would suggest they are where they need to be to win the Seán Robbins Cup. They're still marginal favourites, but only by a point or two.
Birr looking for a double on Sunday
We know what Clodiagh Gaels are – a team that struggles to compete at the very top tier but is invariably very strong at Senior B. They are not necessarily endowed with quite as much pace and energy as a Birr side that has plenty of up and coming players that just aren't quite considered to be ready for top tier hurling yet.
There was a big gap between these sides in the group stages, and on paper, Birr certainly look like the team that was the most fortunate to make the knockout stages. They showed great character in tight games against Shamrocks and Clara to get wins on the board, but 2-65 in five games is very moderate scoring, and it would take a huge swing in form for this one to be competitive.
So two wins out of two for Birr looks unlikely, but they'll certainly feel that they have every chance of causing the county champions huge problems in the senior quarter-final that follows.
As often happens, Shinrone are a different type of team now that they have county medals in their pockets. Before, they were a team that always looked to have talent, but didn't always convert good positions after 45 and 50 minutes of hurling into wins. Now, that has been reversed, to a certain degree. They let a good position slip against Ballinamere, but they were pushed to the wire in each of their first three matches, and still came through every time.
This might be a bit different, however, as there is a real sense of rising optimism in Birr at the way they hurled in a tough group, despite operating without Eoghan Cahill. Obviously, a huge amount hinges on the county star's fitness to play a meaningful part in the game, but if he's available, and they also can get a bit more off their bench, then there might be a little bit more upside in Gary Cahill's troops. It's another game that should make for fascinating viewing.