Offaly's oldest and youngest towns revealed
Analysis of the 2022 Census data by Gamma, a leading location intelligence technology company in Ireland, has revealed that Knock in Mayo has the oldest population of any town in Ireland.
Having analysed the Census data for Irish towns of at least 1,000 or more people following the release of the results, Gamma's Location Labs shows the towns with the oldest and youngest populations across Ireland, with Knock found to have the oldest population with an average age of 47.
Meanwhile, Watergrasshill in County Cork and Saggart in County Dublin emerged as the communities with the youngest population, with an average age of 30.
The analysis also looked at population density and growth since the last Census in 2016. Unsurprisingly, a Dublin suburb was the most densely populated – Kinsealy-Drinan, which is situated in the north of the county, was found to have 8,401 people per square kilometre.
Elsewhere, Clonee in County Meath was the highest for the rest of the country, with 5,536 inhabitants per square kilometre. Also in County Meath, Dunshaughlin had the largest relative population growth, with the data showing that 65% more people live there now than in 2016.
Overall, 12% of people aged 18 and over are living with their parents, but in some places this percentage is much higher. Ardnacrusha in County Clare tops the list with 21% of adults living with their parents. Other towns where the proportion exceeds one in five are Johnstown in County Kildare, Carragh in County Kildare, and Dunboyne in County Meath.
For Offaly specifically, the analysis highlighted the following:
Biggest population – Tullamore (15,598)
Highest population density – Edenderry (2,460/km²)
Biggest increase since 2016 Census – Tullamore (991)
Most % growth in population since 2016 Census – Daingean (14%)
Oldest population – Ferbane (42)
Youngest population – Daingean (35)
Biggest percentage of adults living with their parents – Kilcormac (18%)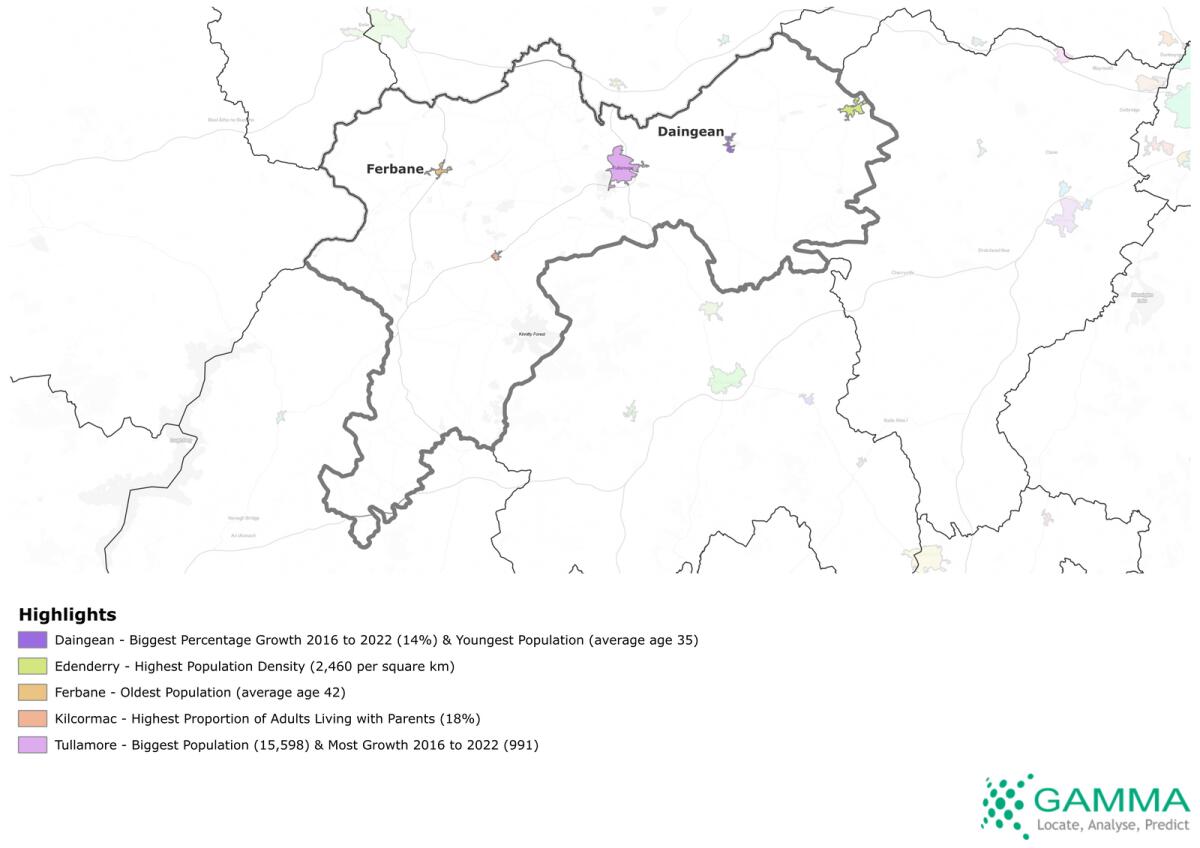 Feargal O'Neill, Gamma CEO, said: "The 2022 Census data has allowed us to analyse and paint an up-to-date picture of the population across Ireland. With this data, we can see the growth of communities across the country, as well as those with ageing populations.
"Being able to visualize and analyse such data can be extremely valuable for business and policy decision-makers in terms of identifying opportunities, assessing risks and planning for the future."
You can find a full breakdown of the county data at the Gamma website.
This analysis only included towns with a population of 1,000 people or more