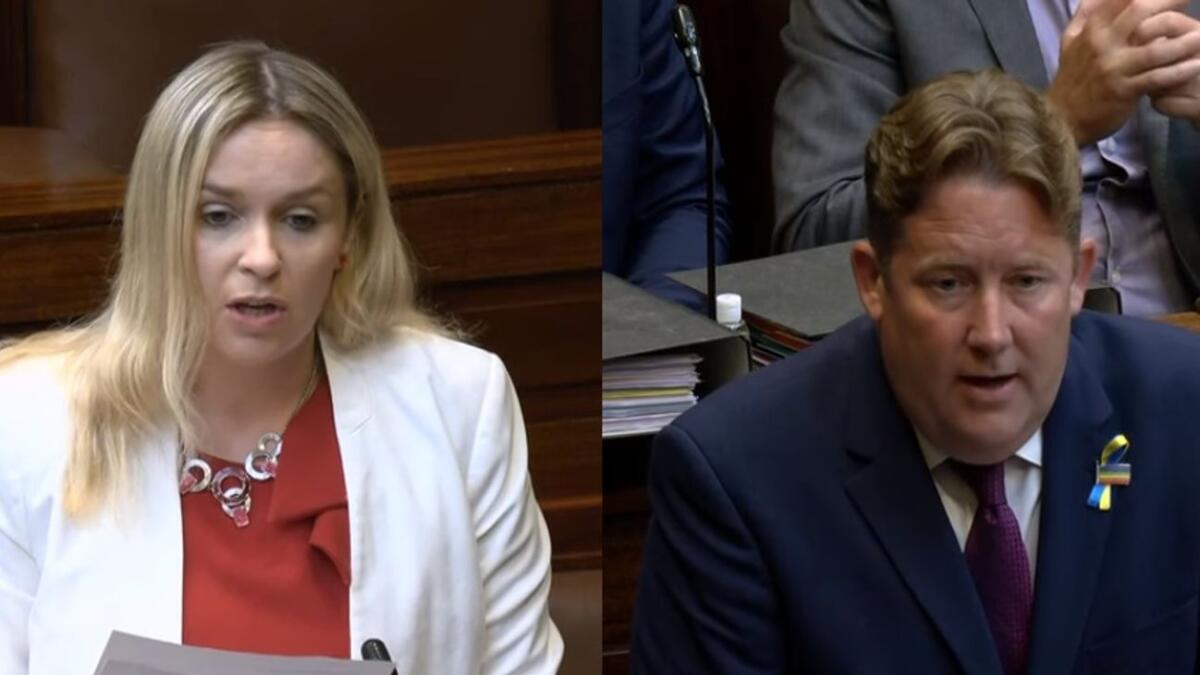 Nolan and Housing Minister clash in heated Dáil exchanges
Offaly TD Carol Nolan and the Minister for Housing Darragh O'Brien clashed in tense Dáil exchanges yesterday (Wednesday) around the issues of immigration and housing.
The Minister said comments made by the Offaly TD had effectively called for "a cap on immigration and asylum seekers in this country," and that the Government "will not support that."
He claimed that, by raising the issue, Deputy Nolan was posing "a risk to social cohesion" in Ireland.
Deputy Nolan described the Minister's remarks as "outrageous" and said the Government's policy was to "welcome everybody in only to leave them sleeping on hotel floors for years."
The row erupted during Leaders' questions in the Dáil yesterday afternoon.
The Independent TD for Laois/Offaly asked the Fianna Fáil Minister whether the Government had conducted an assessment of "the State's capacity to deliver housing to its own citizens, in light of the enormous rise in inward immigration, international protection and asylum applications."
She said it was her understanding that 1,500 people were arriving into Ireland each month.
"I am conscious this is a difficult and sensitive issue and we must tread carefully if we are to avoid blame being targeted at those who least deserve it," said Deputy Nolan.
"However, I am convinced that if we do not learn to find some way of exploring in a grown-up, pragmatic and constructive way the links between unsustainable levels of inward migration or asylum into this State and housing, then we will never find a meaningful solution to an already overwhelming crisis."
She mentioned recent national newspaper articles, including a piece by Harry McGee in The Irish Times which was headlined, 'Housing supply buckling under extra strain of asylum seekers'.
"We can no longer bury our heads in the sand when it comes to these issues. Our political system must find a way to talk maturely and openly about these issues without fear," said Deputy Nolan.
Responding, Minister O'Brien said: "I respectfully suggest that the Deputy's comments this afternoon pose a risk to social cohesion."
He said the Government "has been very clear, particularly regarding our response to our friends from Ukraine.
"We will take in as many Ukrainian citizens fleeing the brutal war foisted upon them through no fault of their own as we must. We will not introduce any caps in that regard," he stated.
He said the Government's 'Housing For All' policy was "the most significant housing plan in the history of the State" and would deliver "300,000 homes between now and 2030."
Minister O'Brien said the Offaly TD had "walked a very fine line" during the debate, but that she was effectively calling for a cap on immigration.
"We will not support that. We will not support a cap on Ukrainians coming here who have fled a war foisted upon them through no fault of their own.
"Does it pose challenges for us? Of course it does. Do the Irish people realise that? Yes, of course they do. This is a welcoming country.
"Over our history as a people, we have had to seek safe harbour all across the world. We were treated very badly in some of those countries. We are not going to allow that to happen here in Ireland," said Minister O'Brien.
Deputy Nolan described the Minister's comments as "absolutely outrageous" and said Government policy on these issues was reckless.
"We have a housing crisis. The situation is unsustainable. It would be lovely to be able to give everybody a house," she said. "Is (Minister O'Brien) suggesting that it is fine to have people on hotel floors for years, because that is what he is saying to me?"
She said she did not want to see "anybody who is fleeing war or genuine persecution sleeping on a hotel floor for years. Neither do I want to see families in Laois/Offaly, left without accommodation, languishing on a housing list for ten years."
Minister O'Brien said if people read the transcript of the debate they could make up their own mind as to whether Deputy Nolan was "drawing a distinction between our own Irish people and those who are coming here to seek safe harbour and refuge."
He said the Government's housing plan was taking hold and that he had been to Laois/Offaly and had seen housing developments happening there.
"We are bringing forward affordable housing for people for the first time in 15 years. We will do that as well as meeting our international obligations as a humanitarian country," he concluded.